Minuwangoda – House For Sale.
LC423
Peellawatte,
Minuwangoda
Offered at SL Rs. 29 Million

Type: Single Family
Bedrooms: 6
Floor Area: 4800 sq.ft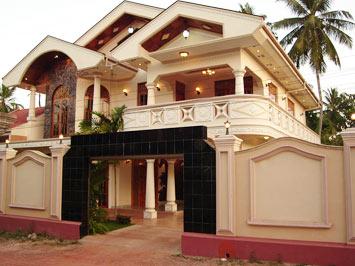 A two storeyed beautiful unfurnished house, the construction of which was completed just six months ago, is available for sale. This house with a floor area of approx. 4800 sq. ft., on 27 perches of land, has been provided with all conveniences and in addition, many features to provide a comfortable, luxurious life style.


House Description –
Living areas :
Dining areas :
Bedrooms :
Pantry :
Toilets :
Floor :
Garden :
Car port :
Servants quarters :
Store room :
Electricity :
Water :
Vacant possession :
Special Features :


2
1
6
1 ( with provision for cupboards for preference of prospective buyer) Kitchen : 2 ( one exterior kitchen )
5 ( inclusive of tub, washroom, massages, hot water etc.)
Fitted with imported tiles
Large
Available - also space for an additional vehicle. Roler door with remote control
Available
1 Three phase - Also generator as back up.
Well water supply from big tank.
Within 14 days from confirmation
Interior designed beautiful home, with teak main door and door type windows with arched frame in Jak timbre with grills fitted. Teak railings on stairs. Teak ceiling. Large beautiful pond with waterfall facing ground floor living and dining area. Separate utility room for washing. Telephone connection for all rooms, provision for antenna connection for all bedrooms, satellite connection to both living areas. Cameras on gates, roller shutters, also decorated steel gate. Ground floor bedroom with Air conditioning and provision for air conditioning to all bedrooms Large beautifully laid out landscaped garden. Imported tiles, lights and bathroom fittings


Sale Price : SL Rs. 29 Million Approx.US $ 290,000/= (Negotiable).


General Location :
Andiambalama Very closer to Air port and Free trade zone. 200 hundred meters to The finance Big city and euro Star hotel.400 meters to Tamarind tree hotel.
Distance to Minuwangoda - 3 kms
Airport - 2.5 kms
Colombo – 36 kms
Contact Details :
Mr Tilak Narasinghe,
353/8 Yatiyana, Peellawatte,
Minuwangoda.
Telephone : ++ 94 11 22 51236
Mobile : ++ 94 77 7688 654
E.mail : tnarasinghe@sltnet.lk